2017 LCHS Lady Indians Softball
13 days ago
Test Drive Event
LCHS Softball and Baseball teams are hosting a Ford Drive 4 UR School event on Saturday, April 14th from 9-2 at the Lumpkin County school system central office parking lot.
Come support the teams by test driving a Ford vehicle. No cost or high powered sales pitch involved. Teams receive money for each test drive taken.
Physical Fair- 4/24
Sports physicals are being offered for $10.00 at LCHS after school.
2018 season softball tryouts May 7-11
Check back for more information or contact Coach Jones directly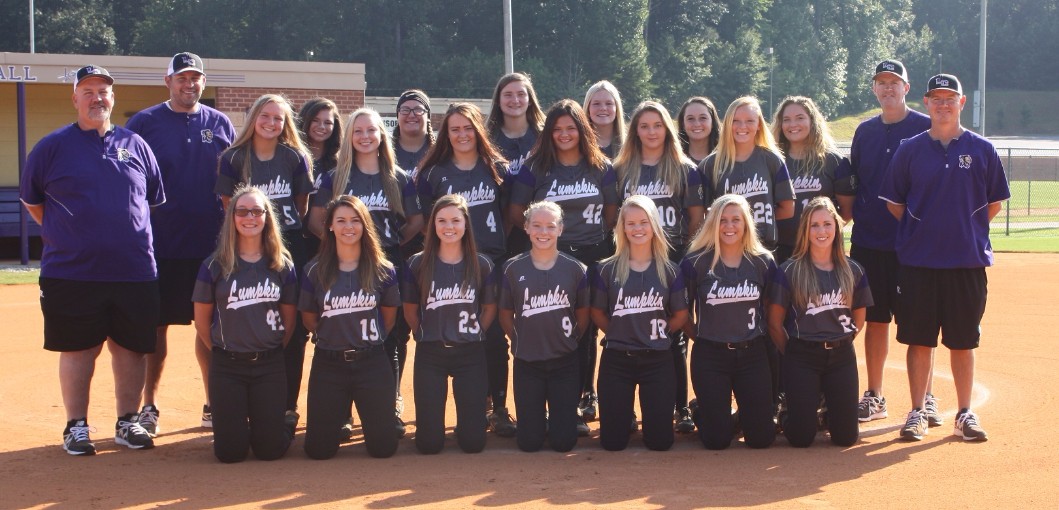 2017 Lady Indians Coaching Staff
Head Coach: Joseph Jones
Asst Coach: Trent Armstrong
Asst Coach: Greg Bicknell
Two Lady Indians Sign with Colleges!
Congratulations to Victoria Mounce and Misty Goodman as they sign with Lincoln Memorial and Truett McConnell to play softball at the next level. We are so proud of you and wish you the best of luck!
Congratulations Coach Jones!
Voted "2017 Best Coach" by readers of the Dahlonega Nugget!


Lady Indians Pitcher Natalie Robinson named NGSportsLink LCHS Softball Player of the Year
Congratulations to sophomore pitcher and first baseman Natalie Robinson for being chosen by the North GA Sports Link as Lumpkin High School Softball player of the Year. Pictured here with LCHS Head Softball Coach Joseph Jones. The award was presented to Natalie during half time of the football game on 10/27 and was announced via twitter feed from NGSportslink.
Way to go Natalie!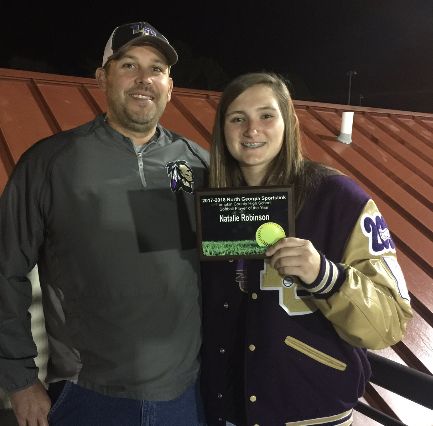 Lady Indians own Kadie Chambers wins Homecoming Queen!
Congratulations to senior left fielder Kadie Chambers for taking top spot as Lumpkin County homecoming queen for 2017. Kadie was escorted on the field by her father, Porky Chambers and joined by mother Tammy Chambers.


Lady Indians represented on Homecoming court
Lady Indian seniors Ansley Jarrard and Kadie Chambers were elected to the senior 2017 homecoming court.


Lady Indians Softball float wins
1st place
The "Zombie" themed float garnered 1st place in the 2017 Homecoming parade. Players and coaches rode the float distributing candy to onlookers. Brandi Armstrong headed of the committee of Freshman parents to make this happen.
Congratulations girls!
Post Season Recap:
Lady Indians finished 4th in Region Tournament on Wednesday, Oct 4th and fell to the Jackson County Lady Panthers in back to back games on Wednesday, Oct 11th in the first round of the state tournament.
2017 Lady Indians Philanthropy-
Suicide Prevention Awareness
Each year, the Lumpkin County High School Softball Team chooses an organization to raise money for. This year, the team has chosen the National Suicide Prevention Lifeline. The team hosted a game on September 20, 2017, at which they had a small ceremony between the JV and Varsity games to increase Suicide awareness and assist in Suicide Prevention. The Lady Indians were able to raise a total of $280 for the National Suicide Prevention Lifeline. Thank you to all who donated!
Click the link below to learn more.....
Victoria Mounce, Misty Goodman, Kyla Day, Kadie Chambers, Ansley Jarrard